Available now: the second edition of Between Blinks!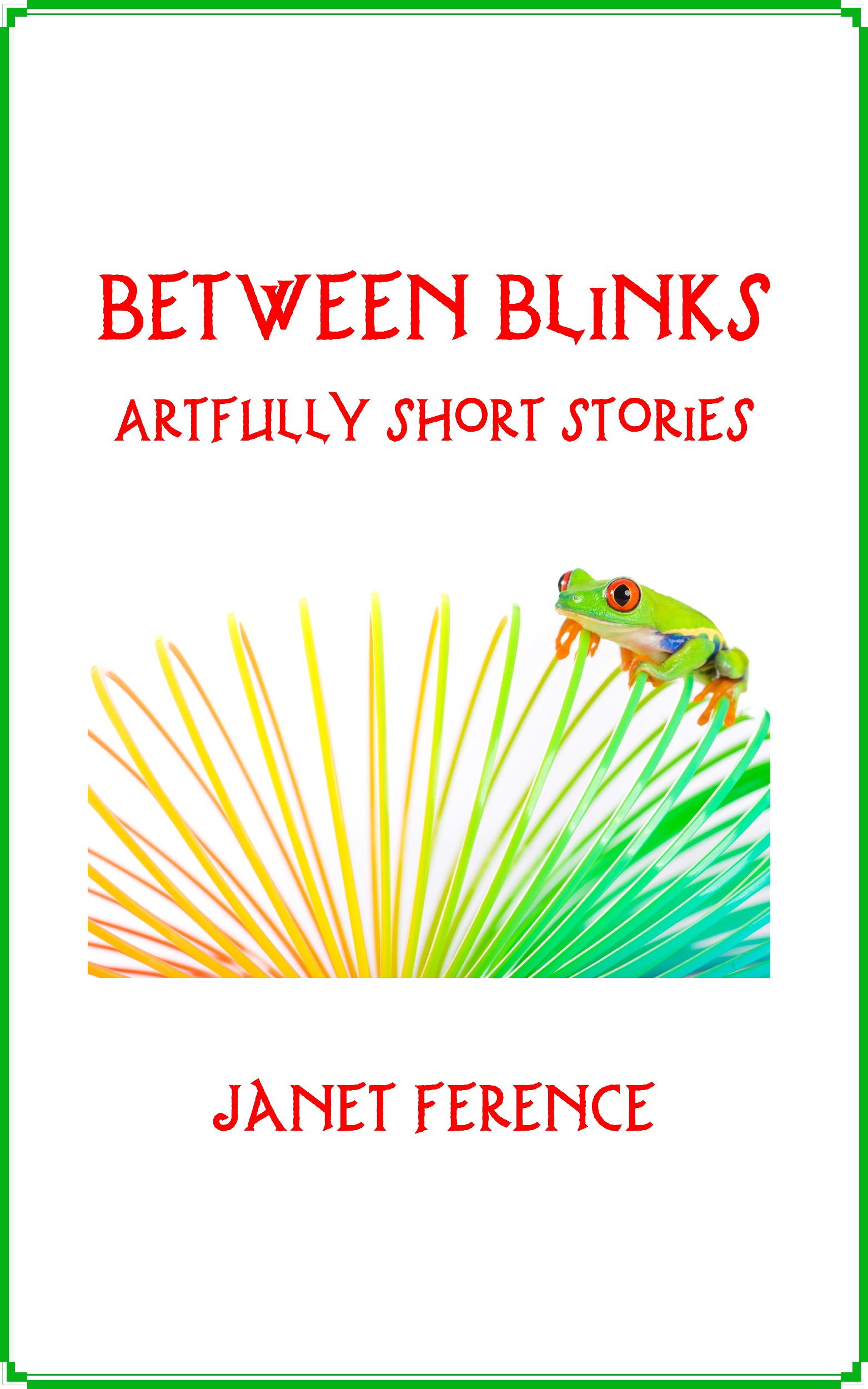 Enjoy this collection of hundreds of quick tales, each complete and unique, within the length of a tweet.
This edition features over 125 new stories, and for the first time, it's out in paperback as well as ebook.
Click here to buy Between Blinks on Amazon.
Here are just a few of these stories:
Lara often dreams she's swimming through air like a dolphin gliding in water. She's playful, sleek and well-loved. Waking nearly drowns her.
Amanda had an old oak cut down. The doves protested. She put up a feeder. It brought rats. She put out poison. That's what killed the cat.
He's a stroke of mixed-hue blues. She's a brush of bright pinks. Where they join, one with the other, they're a streak of mercurial violet.
Comments from the back cover:
"In 'Between Blinks' Janet Ference shines a light on the ordinary and the magic of life so often unnoticed, then follows that path to our hearts. These stories will bring a smile, a sigh and a nod of recognition." ~ Gayle Beveridge, fiction and twiterature author
"The richness of Janet Ference's tales is immensely satisfying. These stories are not disposable, to be read once and forgotten, but to return to again and again. The more of them I read, the more I wanted to click retweet." ~ K. S. Dearsley, author of 'Discord's Apprentice' and 'Discord's Child' of The Exiles of Ondd series
Reviews for the first edition:
"Storytelling boiled down to the pure essence of imagination. This is a fantastic and remarkable book that I thoroughly enjoyed. Brevity is the soul of wit, and this book is filled with wit and a whole lot of soul." ~ Damian P. Gadal, Amazon review
"At first I believed this to be a novelty. But the 'twitter tale' style of storytelling is, in my opinion, complex and sophisticated. It is very much akin to writing a sonnet . . . I would highly recommend this work." ~ Sean K.T. Shiraishi, Amazon review
"These stories are each tweet-length short, but tell so much in their scant words. If you pause between each to really read between the lines (or Between Blinks, to borrow from the title), you will find a richness in the storytelling seldom found in modern stories. Janet Ference captures all those people you see in passing and wonder about. Each story could inspire a full book of its own. Wonderfully interesting!" ~ Jennifer Fite, Amazon review
To learn how the author creates these short stories, go to our "About Us" page.